Worker's Compensation insurance is required in all 50 states for employees who may be hurt on the job. It is a form of no-fault insurance, meaning you don't need to show that anyone was liable, or responsible for the accident or injury. If it happens on the job, workers comp responds. It includes both medical expenses and wage replacement.
Every state has different rates, rules, and classifications, and the highly regulated nature of Worker's Compensation can make securing coverage tedious due to bureaucratic inertia. But these steps will get you started in securing coverage as required under the law.
Here is a general outline of the pre-procedure for obtaining Worker's Compensation in the State of Rhode Island.
The process starts with establishing with the state of Rhode Island that you are a legitimate business. For Massachusetts businesses this means obtaining from the Commonwealth of Massachusetts a Certificate of Good Standing. This confirms is that you are up-to-date on your taxes to Massachusetts including unemployment tax. You can obtain this online at http://corp.sec.state.ma.us/CorpWeb/Certificates/CertificateOrderForm.aspx, using your existing Massachusetts unemployment insurance identification number in the ID number field.
Once you have a Massachusetts certificate of Good Standing you can apply to Rhode Island department of revenue as a non-resident business operating in Rhode Island. You can begin at the State of Rhode Island Business regulation website, https://www.ri.gov/taxation/BAR/ or call 401-547-8700. The main objective is to get your unemployment Tax ID number.
Once you have an unemployment tax ID number for Rhode Island you can apply to the monopolistic Worker's Compensation insurance company, Beacon Mutual. Our office assists existing Gordon Insurance customers who are entering Rhode Island by preparing and submitting the required documents. Knowing your projected payroll in Rhode Island is required to submit for insurance, and often this is a 'best guess' when opening a new location. All payrolls are subject to audit after the first year, so more realistic projections avoid audit surprises at the end of the policy year. More about audits here.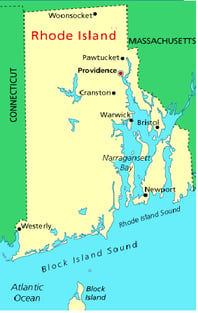 In general, Rhode Island workers compensation rates are higher than Massachusetts rates (the lowest in New England). Ask us for a projection as you prepare to expand into the Ocean State.
If you do not have an agent licensed in Rhode Island, call 401-825-2667 or toll-free 888-886-4450, or visit https://www.beaconmutual.com/pages/Employers.aspx to submit directly.
If you hire only independent contractors in Rhode Island, these contractors can opt out using the form DWC 11-IC which can be completed on-line here: https://wcompsys.dlt.ri.gov/Pages/Modules/ICWaiver/IC/OnlineCertificatePrintingdoc.aspx